Faith Formation
At Lake Washington Christian Church we believe that faith is a journey. Our spiritual lives are not a separate piece of ourselves but integral to our growth as vital people. We walk that journey as individuals and as a community. We provide opportunities for people of all ages to explore their faith, ask questions, worship and share in community, and grow in faith. See our calendar for more information about these events.
Children Worship and Wonder
Primary Kids (grades K-3)
Meets 1st and 3rd Sundays during worship
Children Worship & Wonder offers an exciting way to approach faith formation with children. It is a Montessori influenced program that works with children of varying ages and abilities. This approach recognizes children as spiritual beings who already have a relationship with God.
Through Children Worship & Wonder, children learn about God as they experience God. They hear Bible stories in a way that allows them to enter into the stories and form responses out of their own life experiences. Children gather to sing simple songs, hear a biblical story told with 3-dimensional objects, engage in meaningful and self-directed responses to the story, and share the feast. It encourages reverence and imagination in learning the stories of faith.
"Wondering together is a community's way of remaining open to the Holy Spirit, a way of meditating so the story becomes a part of the group's life." – from "Young children and Worship" by Sonja M. Stewart and Jerome W. Berryman
Youth Group (Junior High and High School)
"Tour of Life" – Second Sunday evenings
We gather 2nd Sunday's for a time of study, mission or play. Our youth group is combined with the youth of Kirkland Congregational Church. Youth group members are integral to the planning of our gatherings. Our youth have participated in events like Souper Bowl of Caring and CROP walk, as well as providing meals for local homeless encampments, earth care ministries and interfaith dialogue.
Adult Faith Formation
9 am Sunday morning
Worship is the primary way in which adults engage the questions of faith through singing, praying, engaging the Bible, practicing stewardship and other spiritual disciplines and the lord's Table. But often time, we desire a more focused or more in-depth study. Adult formation time is offered every Sunday at 9 am (unless stated otherwise) and occasional evening or weekend times throughout the year.
Tuesday Brown Bag Bible Study
This groups meets every Tuesday at 11:30 AM for lunch, fellowship, and study. We enjoy our brown bag lunch, a cup of coffee, and some fellowship from 11:30 AM to 12:00 noon. We engage in study of the scripture from 12:00 noon to 1:00 PM. Often our attention is given to the readings from the Revised Common Lectionary which are used for Sunday worship the following week. Sometimes we venture away from the lectionary for a more in-depth study of scripture. Our discussion is usually unstructured and always lively and engaging!
Other Times
We participate in occasional opportunities for mission and spiritual growth through book studies, outings in nature, and the development of spiritual practices.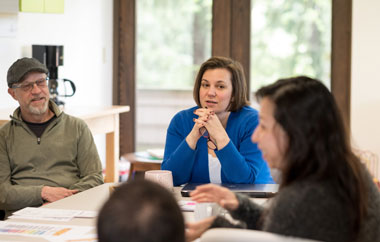 "Bible Study gives me a chance not only to explore my faith and knowledge of the Bible but also to expand my understanding of other people's perception of the Holy Book and their faith/beliefs as well as the opportunity for an old retiree, like me, to have meaningful contact with other people."