What to Expect When I Visit
Who Are We?
We are a Disciples of Christ congregation on the Eastside. Our church welcomes all people regardless of their gender, age, race, culture, ethnic background, sexual orientation, family configuration, economic circumstance, or difference in abilities. Explore who we are.
What Is Our Worship Like?
Sunday worship is a relaxed mix of a traditional service with some contemporary music and moments. Our sanctuary is comfortable and welcoming.
We:
Share our prayers of joy and concern in worship.
Greet each other warmly in our Ritual of Friendship.
Read scriptures and hear a message by our pastor.
Share Communion each Sunday. We believe it is Christ's table and he is the host; therefore all are welcome to participate.
Sing God's praise!
Share a time of stewardship.
You are invited to view a Sample Bulletin (PDF) and listen to previous Sermons.
After worship we enjoy visiting with each other as we share coffee and goodies. Occasionally we have a lunch following worship. You are welcome to join us!
When Is Worship?
Worship is Sunday morning at 10:00 AM.
What About My Kids?
We all begin worship together in the sanctuary. After an interactive lesson focused on kids, children are invited to go to Children's Church (1st through 6th grades) and Nursery (infant through kindergarten). If you wish, your child may remain with you during service.
What Should I Wear?
We encourage you to be comfortable. Some members wear their "Sunday Best", while others show up wearing jeans or their soccer gear.
May I Participate in Church Activities?
Absolutely! Our worship and social activities are open to all.
Where Is The Church?
Our church is located just north of downtown Kirkland.
Our address is 343 15th Ave, Kirkland, WA 98033. (click here for a map.)
From I-405 North or South Bound:
At exit 18, take ramp for NE 85th St. toward Kirkland (west)
Turn right onto 6th St. (second light)
Bear left onto 15th Ave. (6th St. becomes 15th Ave. after Peter Kirk Elementary)
LWCC is on the left after 3rd Pl. intersection. If you reach the stop sign (3rd St.) you have gone too far
For Bus Service:
Currently King County Metro has the following routes with service close to us: Route 255 and 234 (Market St and 14th Ave) and Route 236 (3rd and 15th)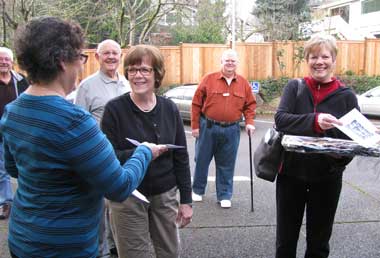 "We enjoy being Deacons because we get to greet everyone that comes in the door on Sunday morning. It gives us the opportunity to help visitors get to know LWCC better. On the mornings when we are not Deacons it is nice to be greeted by a smiling face. That gives us the feeling of being welcomed into a warm and friendly home."