Explore Who We Are
Explore Who We Are
Lake Washington Christian Church is affiliated with the Christian Church (Disciples of Christ) denomination, a mainline protestant denomination that values diversity, ecumenical ministries, and a passion for peace and justice.
We value diversity of belief and opinion and encourage all to study the scriptures for themselves. In worship, we observe the Lord's Supper (also called Communion) weekly. The Communion table is Christ's table. Everyone is invited to participate.
Along with being an open and affirming congregation, we take God's hospitality seriously by:
being aware of, and working towards, fully accommodating those who suffer with Multiple Chemical Sensitivity or other special needs (ADA)
joining with other Greater Kirkland area churches for worship, outreach, and educational opportunities
striving to be eco-friendly by recycling, reducing our energy footprint, and restoring native habitat to our property and the community.
Identity Statement
We are children of God in a loving faith community, living out the love and healing Jesus Christ modeled and taught. We are an inviting, forward-thinking, and inclusive church. We welcome everyone to God's table irrespective of beliefs, culture, orientation, social position, or politics.
We honor our diversity of scriptural interpretations and of forms of prayer. We know we do not have all the answers, and that eternal truths must find fresh expression in each new time and place.
We worship God because it brings us joy and strengthens us to share our joy with the world. We express our gratefulness by gifts of time, talent, and treasure. We share each other's sorrows and joys. We know that celebrating with music, having fun together, and honoring each person's light and gifts brings us fullness of life.
Guiding Vision Statement
"What does the Lord require of you but to do justice, and to love kindness, and to walk humbly with your God?" Micah 6:8
God calls us to live our faith deeply through prayer, worship, and service. We listen humbly for God's guidance through prayer and a vital encounter with scripture. We move closer to God through deepening spiritual practice.
We respond to the needs around us with service as both our duty and our delight. Following Jesus' teachings, we care for the aged, the excluded, and the powerless around us. We especially focus on our children, for God's realm belongs to such as them. Overflowing with the joy of life in Christ, we naturally share that Good News with others. We are the vibrant, beating heart of our Kirkland neighborhood.
As Disciples of Christ, we work for wholeness in a fragmented world. We are called to be good stewards of all God's creation. We are as interconnected with nature as we are interdependent with all of God's family. We heal the wounds of division by working hand in hand with our sisters and brothers of other faiths and those with no expressed faith. We act to bring God's restorative justice to a materialistic world.
Basic Beliefs
Our Denomination
As Disciples of Christ we number ourselves among other liberal "main-line" denominations. We are partners with the United Church of Christ and are a part of Churches Uniting in Christ, which includes such denominations as United Methodist, Presbyterian Church (U.S.A), and Episcopal.
No Creed or Doctrine
We value diversity of belief and opinion and encourage all Christians to study the scriptures for themselves. While we have no creed or set doctrine we are united in our belief that "Jesus is Christ, the Son of the Living God."
Lord's Supper and Baptism
In our worship we observe two ordinances established by Jesus – The Lord's Supper and Baptism. We celebrate the Lord's Supper, also called Communion, every Sunday at worship. We believe that it is Christ's table, therefore all are invited to participate.
We baptize those coming to faith in Jesus by immersion (an individual is lowered completely under water). While this is our practice, we respect all forms of Christian baptism, and do not require any "re-baptism" of those who have been baptized in any other Christian tradition and who now wish to join our congregation. Persons who have previously been baptized may become members of our church by making a public confession of faith in Jesus.
Service
We believe in service in Christ's name. Our lay leadership supports the professional staff in ministry to the congregation. We also support a variety of local and regional ministries through our denomination and our covenant with other area churches.
Our Denomination's Symbols
The symbol of the Christian Church (Disciples of Christ) is a red chalice with St. Andrew's cross. The chalice symbolizes the importance of the Lord's Supper to our denomination and church. The cross is the national cross of Scotland and brings attention to the Scottish Presbyterian roots of the church. The red color signifies vitality, spirit, and sacrifice.
Learn More
To learn more about the Christian Church (Disciples of Christ) visit the Disciples web page at http://www.disciples.org.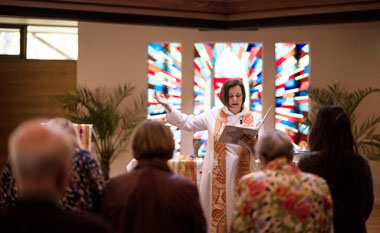 "It's never too late to find the right path. It took me awhile, but I've found exactly the right place for me to worship and study about Christian faith. I'm full of thanks and gratitude every day to be a part of this wonderful congregation."