Open and Affirming
Open and Affirming Statement
At our congregational meeting in May 2010, Lake Washington Christian Church adopted the following statement declaring ourselves Open and Affirming:
We declare ourselves to be an open and affirming community celebrating God's glorious diversity of creation by welcoming to our church all people, including members of the gay, lesbian, bisexual and transgender community. Open means we are open to God expanding our minds to see the value in all creation. Affirming means that we make our declaration joyfully and without reservation.
Weren't we always Open and Affirming?
Disciples do have a tradition of being open to differences of opinion and diversity of belief. The only requirement for membership is a confession of faith in Christ. And while we as a congregation may feel and express our welcome to everyone, we felt it was important to state explicitly and publicly that we welcome and affirm gay, lesbian, transgender, and bisexual people. Unfortunately, the message of the church and much of our society to LGBT people has predominantly been one of judgment. Through this statement and continuing discernment, we are striving as a community of faith to live up to the Gospel message that God's love and justice are offered to everyone.
What does the Bible say about homosexuality?
As with all scriptural interpretation, it's important to understand the historical and sociological background of scriptural texts. For example, one of the primary concerns of ancient Israel was survival. Thus the story of Adam and Eve emphasizes the role of men and women in procreation. We also need to understand that the creation stories in Genesis 1 & 2 strive to answer the questions of ancient people about how we got here. It has long been assumed that God created only heterosexuals who were attracted only to the opposite sex. The argument is often used that homosexuality is thus "against nature." However, there is increasing scientific evidence that sexual orientation is not a choice or a lifestyle but a part of a person's biological make-up. In scripture the reference to homosexuality refers to homosexual acts committed by heterosexuals and were often exploitative and not part of a loving relationship between equal partners. As a matter of fact, there is no word for "homosexuality" in Hebrew, Greek, or Aramaic. Jesus never mentions homosexuality, although we know it was a common part of the culture.
If we look at scripture through the lens of God's inclusive and ever broadening love, we see a thread of love, of God's desire for justice for all people, especially the poor, the vulnerable, and the outcasts. We see in Jesus' life, ministry, and teachings an open invitation to God's great banquet.
What are the next steps?
We will continue to seek ways to welcome and engage all people. We are called to continue to grow in faith and knowledge, to "do justice, love mercy, and walk humbly with our God." (Micah 6:8).
For more information:
The Gay, Lesbian and Affirming Disciples Alliance, Inc., is a presence working for the full dignity and integrity of gay, lesbian, bisexual, transgender, and affirming people within the Christian Church (Disciples of Christ).
www.gaychurch.org is a web site dedicated to ministering to the gay and lesbian Christian community (LGBT) and to the friends of our community. The site features one of the largest gay Christian bulletin boards and gay "welcoming" Christian church directories in the world. A large section of the site is dedicated to articles pertinent to reconciling one's faith with their sexual orientation ("Gay and Christian?").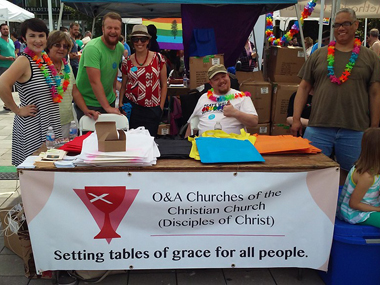 "Because we simply assumed that our identification as a flexible and diverse congregation included people of various gender expressions, we didn't realize that some folks need us to be more specific in order to feel sure of their welcome. When we made that discovery, we quickly amended our constitution to include LGBT."